Game number 8 of my "
10 Match-ups to watch in 2009-2010
," saw the 3rd place in the West Kitchener Rangers taking on the 1st place Windsor Spitfires. The Rangers have been awfully inconsistent over the last two months, but I still expected this one to be closer than it was. The Rangers were largely dominated by the Spitfires being outshot 46-18 and outscored 6-2. That's not a good enough effort for a team with second or even third round aspirations in the playoffs.
The Spitfires have been looking better and better lately as they start to get everyone back to good health. They're starting to play with more of a chip on their shoulder and have become increasingly "gritty" and physical as the regular season winds down. This is going to be a necessity this year for the Spitfires if they want to get past teams like Plymouth in the West and Barrie in the East during their Memorial Cup defense.
Some individual thoughts...
Kitchener Rangers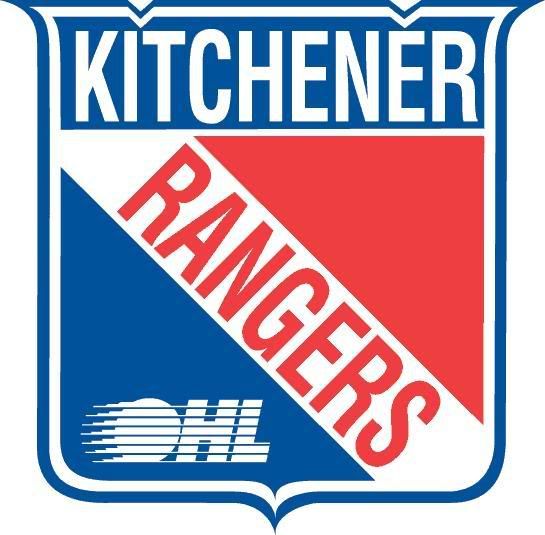 John Moore (CBJ)
Thought he played a very good game. I think his play has improved over the course of the season, after being somewhat underwhelming for the first part of it. Maybe the expectations were just set too high. He was coming off winning the USHL's Top defenseman award, a first round NHL draft selection and a near make of his NHL team. Pretty much the same circumstances that John Carlson came to London under last year and completely set the league on fire. I think many people looked at Moore's resume and assumed he'd make the same kind of immediate impact as one of the league's best defenseman. While that hasn't really come to fruition, I think he has made progress. He's confident in carrying the puck and he's definitely a great skater. Had one really nice rush tonight as he deked around the Windsor forechecker, dipsy-doodled through the neutral zone, went right to the net and got a chance on a wrap around. He also scored a nice goal as he slid behind the Windsor defense on the cycle and buried a wrist shot past Phil Grubauer off a nice feed from Chris MacKinnon. Defensively, he seems a lot more composed, less running around like a chicken with his head cut off. I think he's still going to need to improve his play away from the puck in his own end, and increase his intensity level, but he's definitely a future NHL player.
Ryan Murphy (2011)
Murphy had his ups and downs tonight. The ups were his usual beautiful rushes up ice with the puck. He makes it look so effortless. But on the downside, he made a gaff on the second period Adam Wallace goal as he tried to hit a bouncing puck with his stick, instead of using his glove, the puck went behind him, Windsor gained possession and eventually scored on a loose puck in the slot. After that, he seemed to play a lot less. He was even seeing little time on the powerplay, which made no sense to me. But cest la vie. I just hope Murphy grows another inch by this time next year so we don't have to hear about the defenseman under 6'0 ft crap.
Jeff Skinner (2010)
Skinner played a really good game tonight I thought. Showed an ability to fight through bigger and more physical defenders. Mark Cundari and Harry Young were really on him all night, hitting him, tossing him around, but he never gave up and he managed to still get his fair share of scoring opportunities. The first Rangers goal by Matt Tipoff was all Skinner as he fought his way to the net, dragged the puck and missed the net with a shot, only for it to take a nice carom off the end boards right to Tipoff for the easy put away. It's games like this where Skinner cements his place among the top end of OHL players available for this draft IMO. While he's not going out there throwing massive bodychecks, his intensity level is still high and he's got this motor that just keeps running and running every shift. Those types of players will always get their scoring chances.
Jeremy Morin (ATL)
I thought Morin played a pretty good game too. He he was robbed by Phil Grubauer a few times, once on a two on one where he tried to roof it on a sliding Grubauer and the other time as he came down the wing and released a wicked wrister that Grubauer got enough of to direct it off the crossbar. Every time I've seen him play I've been very impressed by his ability to get himself in position to score. In a lot of ways, he reminds me of former Oshawa winger Brett MacLean, who despite not being the world's greatest skater, was elusive and slippery in the offensive zone and had a outstanding ability to get shots off in traffic and while in motion. MacLean has done very well for himself so far in his professional career so I'd expect Morin to follow a similar path.
Brandon Maxwell (COL)
The story for Brandon Maxwell this year has been his bouts with inconsistency. Just look at his stat line, especially over the course of the last month. Some tremendous performances mixed with some incredibly poor ones. Now, I must admit. I think Maxwell has been the recipient of some unfortunate luck and play from the team in front of him at times this year. Some of those terrible stat lines have been a result of his team just laying out a big turd, especially at the defensive end. Tonight was really no different. He made 40 saves and for the most part, kept his team in a game that they had no right to be in. But...on the flip side, there were a few "iffy" goals that he gave up that could have really given his team a boost. He made some big saves, but he didn't necessarily make them when they were most needed (aka after the team battled back to make it 4-2). The talent is definitely there. He's a very athletic goaltender who's a good skater, moves well in his net, can stretch out for the save. He also appears to be pretty good at taking away the top part of the net, good glove and blocker and does a good job limiting the rebounds of shots to his upper body. It's the lower part of the ice that he seems to be vulnerable too. I think a lot of that stems with some poor mechanics. He challenges the shooters, but seems to play the wrong angles at times. For example on the first goal by Greg Nemisz, he came out to cut down the one time shot, but he was too far over to the left of his net, exposing the right side which is where Nemisz put it (and put it right along the ice). He seems to really over commit to plays at times too, like the Cam Fowler goal where Maxwell completely committed to a pass, only for Fowler to get the puck back and put it home five-hole. In time, I think he can develop into a good goaltender...if he's got the work ethic (which I have no idea if he does because I don't know him or his habits).
Windsor Spitfires
Taylor Hall (2010)
Hall had a great game for creating scoring chances and a terrible one for finishing them. Obviously this isn't the norm for Hall, but he had a lot of trouble with the puck tonight. I think I counted about 3 or 4 glorious opportunities for Hall to put home a goal, but he either fanned on the shot or just couldn't get enough of his stick on it. But he was all over the ice creating with his speed. Did manage an assist on the first one timed Nemisz goal, with a very nice pass to the center of the ice through the Rangers defense. Playmaking is definitely an underrated part of Hall's game similar to the way it was for John Tavares last year.
Ryan Ellis (NSH)
Ellis had a pretty good game. He finished with a goal and two assists, but it was a fairly quietly productive night. The goal was scored on the empty net to make it 6-2, while the two assists were not really critical to the plays made on the goals. For as big a supporter I've been of Ellis over the past couple of seasons, I am starting to have some question marks creep into my head about his play. If anything, I've kind of been underwhelmed by the lack of "dynamic" development in his game this year. By that I mean, he hasn't really developed into the game changing, shift dominating defenseman I figured he would be this season. He's still a beast on the powerplay, but five on five, he hasn't really taken that next step as a dominant two way defenseman. If anything, I think the biggest hurdle has been his lack of improvement in skating. Not an atrocious skater by any means, but he's not good enough to be an elite puck rusher at the next level. Just looking at a guy like John Moore tonight, his skating and ability to stretch the defense out makes him a dynamic player. But Ellis doesn't have that same quality. This concerns me because at the next level, he's really going to need to take advantage of his offensive gifts (shot, passing ability, game awareness), but I fear that his lack of physical gifts could prevent him from doing this. Just what type of role does he play in the NHL? Is he the next John Slaney, or does he develop into a quality NHL offensive defenseman. I'm just not as sure as I once was about his NHL future.
Stephen Johnston (DET)
The move to Windsor seems to have been a blessing for Johnston so far, who was getting suffocated in Belleville by a rebuild process. This is an important season for Johnston, as he needs to be signed by the Wings as a 2008 draft pick. Unfortunately for him, injuries have really slowed his development, but playing in Windsor seems to have re-animated his game as he's playing the best hockey he's played in a while. He was very dangerous all night. He looked good off the rush, using his speed to generate scoring opportunities. Flew right by Rangers defenseman Patrik Andersson coming down the wing, but was stoned by Maxwell as he cut across the net. He also looked good in the cycle and did a good job in puck possession and the hunt for it on the forecheck. Johnston was also a solid contributor on a Windsor penalty kill that held Kitchener to 0 for 7 tonight. If he can string together a strong performance to close out this season, there may yet be hope for Johnston to earn a contract from Detroit.
Adam Henrique (NJ)
Henrique seems to be picking things up again after struggling through the past month and a half following the World Juniors. Truthfully, I think he injured himself at the tournament more than we were lead to believe (a minor shoulder injury suffered in an exhibition game). Lingering injury, combined with a move down to the teams third line seem to have combined to slow Henrique's production to only 2 goals in his last 11 games. But him and Johnston seem to have developed some chemistry and Henrique looked better tonight than he has lately. Although he's still not as aggressive in carrying the puck and doesn't seem to be as dynamic of a player as the one who left for the WJC's in December.
Cam Fowler (2010)
Don't really have too much to say about Fowler that hasn't already been said. He's a tremendous defenseman and a tremendous talent. His mobility, combined with his elite physical and hockey oriented skills make him a great NHL prospect. His goal was scored as he picked up the puck in the corner, took the puck to the net, attempted a shot that was blocked only to come right back to him where he shot it again, beating Maxwell five hole. For more on Fowler, check out my profile of him for School Your Pool
here
.
Kenny Ryan (TOR)
Ryan looks much improved from when I saw him earlier this season. Big change seems to be in his conditioning. His energy level seems way up and he was active on the forecheck all night. He also seems to be generating way more offensively. In the first period, he had a couple of great opportunities that nearly resulted in goals. One a drive to the net that saw him finish with a slapper to the chest of Maxwell, another a partial breakaway that was foiled by Brandon Maxwell. When college players make that jump to the OHL, they often look lost in their first month or so and Ryan was no different. Ryan was another player who's strong work on the penalty kill helped keep the Rangers at 0 for 7 on the night.
Justin Shugg (2010)
This was the best game I've seen Shugg play. He was all over the place tonight and turned in a very solid effort. He earned two assists on the night, one of which he was critically a part of. This was the first Windsor goal where his hard work along the boards resulted in the puck getting to Mark Cundari at the point who released a shot tipped in by Scott Timmins. Shugg also demonstrated some solid stick work that I hadn't previously seen, with a great drive to the net through two Rangers players, only to lose the puck as he was nearly free on Maxwell. Similar to Saginaw's Josh Shalla, I'm still not really sure what to make of his NHL potential and thus his draft position, but if tonight is any indication, he might have a future as a hard working, offensively productive, complimentary top 6 forward.
Mark Cundari (STL)
Cundari played a very good game. He's had kind of an up and down season thus far, with most of his troubles stemming from a desire to develop into an elite offensive defenseman. When he's not trying to force action up ice (by rush or pass), and when he's playing things safer, he's a very good defenseman. Because when he limits the amount he rushes, he's actually one of the better shut down defenders in the league, as he displayed tonight. Did a great job keeping Jeff Skinner in check, and really was throwing his body around. Rubbed out Skinner twice in one shift then skated by the Kitchener bench looking for a fight. He's going to need to keep that high intensity level in order to play the type of game he does at the next level, where being a 5'10 stay at home defenseman can be tough. But I have faith that he'll develop into a quality defender at the next level, when he'll eventually learn his limits and stick to the things he's best at.
Greg Nemisz (CGY)
Not a whole lot to say really, other than what I've been saying all season long. The improvements he's made to his skating have really helped his game. He's much more involved off the rush and he's even harder to contain in the slot as his mobility makes him more elusive. Both goals were scored off one timers in the slot. Still needs to improve his consistency from shift to shift and his ability to use his size with the puck on his stick, but I'm hopeful playing at the next level will unlock that more, as it often can for players like Nemisz.
Eric Wellwood (PHI)
As I had in one of my recent Sunday Top 10's (
here
), Wellwood is definitely one of the most improved players in the OHL season. He's evolved into more than just a solid penalty killer and checking line forward. He's gained confidence with the puck on his stick and is taking more opportunities to develop offensive scoring chances. Playing with Taylor Hall doesn't hurt either. One thing I have really been impressed with lately is his increasing motivation to become involved physically. He's really starting to develop into a gritty type forward. Had one really nice hit on a Rangers player tonight (I believe Ben Thomson). A great draft selection by the Flyers.
Philip Grubauer (2010)
Grubauer was excellent tonight, even if he only faced 18 shots. Of those 18, quite a few were excellent scoring opportunities. The best save was on Jeff Skinner, as he slid across his crease in the splits to rob a streaking skinner with his glove. He made a similar save on Jeremy Morin earlier in the game on a 2 on 1. Grubauer is definitely very athletic and moves very well from post to post. He challenges shooters, does a good job of finding the puck in traffic and uses a kind of hybrid style to keep shooters guessing. He's still yet to lose in regulation for the Spitfires (with only one shootout loss), so the move to Windsor has to do nothing but good for his draft status.
That's it folks. Any questions?