A few things have happened this week that I want to catch you up on...
Firstly
, some players have been added to the OHL roster for the upcoming ADT Challenge games. Chris Terry is going to miss the game in Guelph as he was recently diagnosed with mono.
The following players have been added to the roster for the Guelph game on November 20: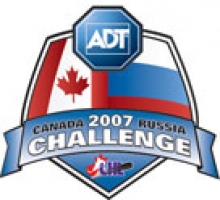 Nick Crawford - Saginaw
Josh Brittain - Kingston
Ryan O'Reilly - Erie
The following players have been added to the roster for the Niagara game on November 24:
Alex Pietrangelo - Niagara
Stefan Della Rovere - Barrie
The full rosters can be found on an earlier post
here
Be sure to tune into these games on Roger's Sportsnet as they will be broadcast nationally.
Secondly
, and related to the first point, the Russian roster for the ADT Challenge was recently named. The roster doesn't have a lot of recognizable names on it, so who knows what type of competition we're going to get. For the OHL games at least, Russian OHL'ers, Evgeny Grachev, Sergei Korostin, and Andrei Loktionov will play.
Forwards:
Egor Dubrovskiy
Sergey Plotnikov
Evgeny Dadonov
Anatoly Nikontsev
Nikita Klyukin
Dmitry Kagarlitsky
Vadim Ermolaev
Pavel Chernov
Alexey Potapov
Vitaly Menshikov
Alexander Komaristyy
Artem Yarchuk
Defencemen:
Alexander Ostroukhov
Mikhail Pashnin
Vasily Tokranov
Dinar Khafizullin
Andrey Marygin
Igor Golovkov
Alexander Osipov
Andrey Konev
Goaltenders:
Sergey Gayduchenko
Alexander Pechurskiy
OHL Games Only:
Evgeny Grachev (Brampton Battalion)
Sergey Korostin (Peterborough Petes)
Andrei Loktionov (Windsor Spitfires)
VS.
Lastly
, a major development from the whole Brandon Maxwell to Windsor development. USA Hockey has decided they will not release Maxwell from the NTDP, and as such will not be joining the Spitfires this season. Essentially, Warren Rychel and the Spitfires are incredibly angry and are looking to appeal. Personally, I think this looks pretty bad on USA hockey. I understand their willingness to want to keep good talent in their system, but why would you want someone on your team or program that doesn't want to be there?
More info on the whole situation can be found at